Summer
Tourist Info San Candido
Piazza del Magistrato 1
I-39038 San Candido (BZ)
Alta Pusteria - South Tyrol - Dolomites - Italy
Phone: 0039 0474 913149
Fax: 0039 0474 913677
E-Mail: info@sancandido.info
Hiking in the Dolomites - UNESCO World Heritage
In Alta Pusteria you can choose between a comfortable valley hike, fascinating alpine paths and round tours of the renowned peaks of the Sesto Dolomites. The majestic peaks and the numerous valleys in the Dolomites - UNESCO Natural World Heritage are ideal for alpine hikes. Choose between a rather comfortable walk or a demanding tour: without doubt this day will remain an unforgettable adventure in preserved nature!
South Tyrol / Südtirol Trekking Guide
The new South Tyrol / Südtirol Trekking Guide guides you through South Tyrol's most beautiful hiking and trekking tours with detailed maps. leggi...
The Alta Pusteria Hiking Map
Leaving from Dobbiaco you can enjoy hikes in the beautiful Dolomites - UNESCO Natural World Heritage, and experience the magic of this fascinating mountain world. If you plan multi-day tours, you can sleep in one of the traditional huts or in an alpine guesthouse.
Hiking suggestions for download (approx. 5 MB)
Walking paths and Nordic walking in Alta Pusteria
Alta Pusteria also provides the ideal setting for walks and Nordic walking. Amidst the splendid landscape of the Dolomites you can choose from numerous walking paths and many paths for Nordic walking. Try one of the numerous variations during a walk, or grab two poles and enjoy Nordic walking in the beautiful landscape in Alta Pusteria!
Walking paths for download (approx. 5 MB)
Webcam
The Three Peaks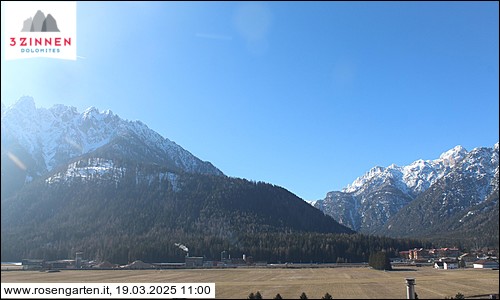 Place: Three Peaks

Altitude: 2.438 m

Position: View from Rifugio Locatelli towards the Three Peaks

Powered by:
Not only does the Alta Pusteria have beautiful mountains, and wonderful landscapes, the peaks and alpine plateaus can also be reached with cable cars.
Here you will find all huts in the land of the Three Peaks.